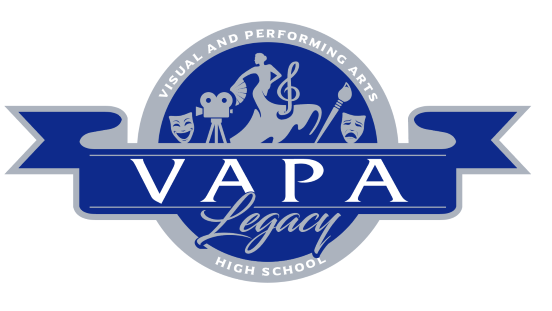 LEGACY SH VAPA
(323) 357-7531
1/17/22
Hello VAPA Community. This is Dr. Trimis. Hola, comunidad de VAPA.  Este es el Dr. Trimis. Tuesday, January 18, is a regular, A-Day. El martes, es un día A regular.
Today we celebrate the life of Martin Luther King, Jr.
We have some new programs beginning this semester including the new California Cadet Corps and the Harmony Project. Please go to our website and social media platforms, call us at school, or e-mail me for more information and how to enroll in these programs.
PLease note that starting this week, students will have the opportunity to make up any detentions they have earned by being tardy to class. This semester we are implementing our tardy policy and revised dress code.
We continue to encourage all of our students to be vaccinated against COVID19 for their safety and the safety of their families, community, and our VAPA community. Vaccinations continue to be offered by LAUSD as well as required weekly testing at school for all students and staff. Go to www.lausd.net for more info.
We will continue to follow all LAUSD and La County guidelines regarding quarantine policy for close contacts and COVID positive cases. We will have Coffee with the Principal and a community town hall in the next few weeks to review the guidelines with our community.
Frozen the Musical opens February 24. Hope to see you there!
Please check our website (www.vapalegacy.net) and social media, and be on the look-out for messages , emails, and texts from us for important updates. You can always call us at 323-357-7531 or e-mail me at etrimis@lausd.net if you have any questions.
Have a great week, and, I'll SEE YOU AT SCHOOL!
Take Care,
Dr. Edward Trimis, Principal