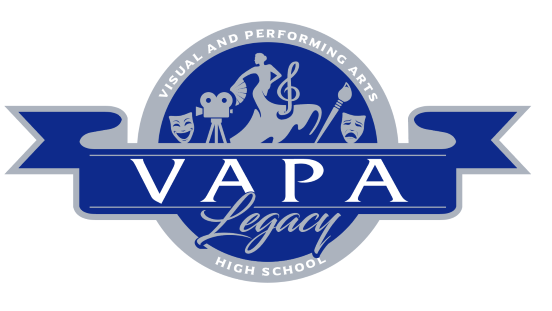 12/5/21
Hello VAPA Community. This is Dr. Trimis. Hola, comunidad de VAPA.
Congratulations to our performing groups in this year's Winterfest, the first LIVE Winterfest in 2 years!  Our performances rocked the house with wonderful singing, playing, and dancing representing all of our music and dance clases. All total, there were literally hundreds of performers! Thank you so much to our amazing directors and thank you to our tech, video, and photo teams who supported the programs. Toy donations from the event will support youth in South Gate through the South Gate Police and City of South Gate Toy Drive programs.
As part of our school climate renaissance, we will be giving away 10th Anniversary T-shirts to all students and staff tomorrow. All students and staff are asked to wear their new shirts for group photos on Friday at the beginning of lunch.
This week we will have additional on-site vaccination clinics at Legacy on from 12-7 pm on Monday, Tuesday, and Wednesday. More info and vaccine appointments may be found at https://achieve.lausd.net/covidvaccineappt 
We will have a number of upcoming incentives which will be given by an opportunity drawing for all students vaccinated on Friday. All students who enter must be present at the drawing at lunch in the Quad. Previously, we have given away a Nintendo Switch, Apple Airpods, an electric scooter, and drones. We will give away some of the same prizes and additional prizes for this drawing.
Looking forward to the Spring Semester, Frozen the Musical opens February 17 and we will add some programs and events including the Harmony Project, California Cadet Corps, Key Club, our 10th Anniversary Celebration, original Musicals Showcase, Spring Play,  Springfest, and our original student musical, The Hardest Goodbye. It will be quite a semester!
Please support our VAPA music students who are playing in the LAUSD All-City Honor Marching Band. You can see them at BandFest at Pasadena City College, Friends and Family Day at Contreras High School, at Disneyland, or the Tournament of Roses Parade on January 1. More info will be on our website.
Friday is the last day of school before the Winter Break. We will return on January 10 with a regular day starting at 8:30 am. Please note our revised attendance and dress code policies are being fully implemented in the new semester. Both policies were sent home, posted at school, and posted online. Please also note there will not be a weekly call until January 9, 2022.
Please check our website (www.vapalegacy.net) and social media, and be on the look-out for messages , emails, and texts from us for important updates.
Have a great week, and, I'll SEE YOU AT SCHOOL!
Take Care,
Dr. Edward Trimis, Principal