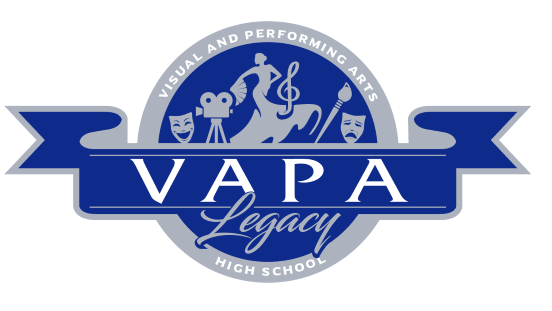 March 28, 2022
Dear Students and Parents or Guardians,
It is with great excitement I welcome you to the Legacy Visual and Performing Arts High School family! We have been working hard to prepare for a wonderful year for you full of fantastic learning opportunities from the classroom to the stage and beyond! We are excited about the many programs we offer that you will learn about from your Link Crew mentors to the Educare ACE program for all Freshmen.
I hope to see you at Fall events, our Freshman Orientation event, Back-to-School Night, shows, concerts, recitals, and more! I also hope to see you at our production of Frozen, the Musical, at 6:30 pm on Thursday, April 7!
Traditionally, our sports teams would be holding try-outs and practices after our in-person Sports Orientation on June 11 at 9 am and more info may be found at www.legacytiger.com and
www.vapalegacy.net . Our Summer Bridge will be on Wednesday, June 22 through Friday, July 22, 2022 from 8:15 am to 11:30 am and Orientation for New Freshmen, Saturday, August 6. The first day of school is Monday, August 15, 2022. The Educare ACE Program will be held in the first few weeks of school. The ACE Program is a transition to high school program which helps our students start their high school career strong. Back-to-School Night will be on September 2 beginning at 5 pm. More information will be sent home and posted on our websites and social media platforms (see below).
June 4th 9am-1pm 9th Grade Students Enrollment Packet Pick-up
(Staff Parking Lot)
June 11th 9am All students Sports Orientation (Gym)
June 22-July 22 8:15 am-11:30 am 9th Grade Students Summer Bridge/Orientation
July 25 9am – 2pm 9th Grade Students Last Name A-L Enrollment Day- Return Completed
Packet- (VAPA Library)
July 26 9am-2pm 9th Grade Students Last Name M-Z Enrollment Day- Return Completed
Packet- (VAPA Library)
July 27 9am-2pm 9th Grade Students ALL Enrollment Day- Return Completed
Packet- (VAPA Library)
August 6 8:30am-12:30pm 9th Grade Students Freshman/New Student Orientation
August 15 8:30am-3:30pm All Students First Day of School
September 1 5pm All Parents/Families VAPA Back-to-School Night
We plan to make Year 10 of VAPA the best ever! Please also be sure to check our website regularly and utilize our social media platforms for updates (Website www.vapalegacy.com, ONLINE Website www.bit.ly/vapaonline, Facebook www.facebook.com/VAPAHS, Twitter https://twitter.com/vapa_at_legacy, and Instagram www.instagram.com/vapa_at_legacy). Please also call me at any time at 323-357-7531 (office). You may also send questions to our Parent Request system online at www.bit.ly/vaparequestenglish or www.bit.ly/vaparequyestspanish.
Sincerely,
Dr. Edward Trimis
Principal